I booked onto a BCU Four Star Leadership Award training weekend with Roger Chandler who runs Coastal Spirit over in North Wales. I had met Roger a couple of months earlier while I was attending a Navigation course and liking his manner I was keen to be coached by him.
Well I shot up to North Wales Friday evening and it was dark when I got there, I had booked into a Youth Hostel and for cheap, good accommodation it cannot be beaten. Great atmosphere, drying rooms and comfy beds, beats sleeping in vans – certainly at this time of the year anyway. I awoke to an amazing view of the Snowdonian Mountains. Breathtaking….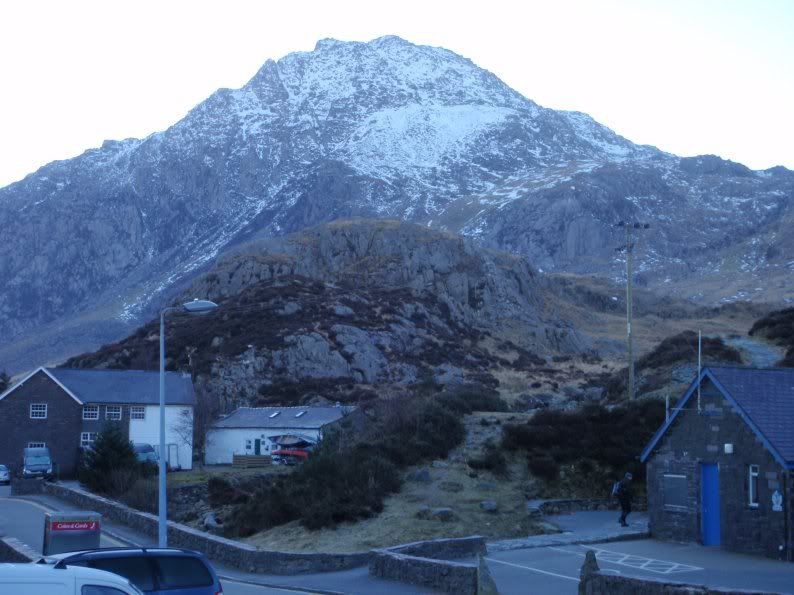 Met Roger and a few of the other guys on the course not too far from Menia Bridge and after a coffee and a little bit of discussion we headed off to the north east corner of Anglesey to a small cove called Port Eilian. With a bit of rock hopping on the way we headed out towards Point Lynas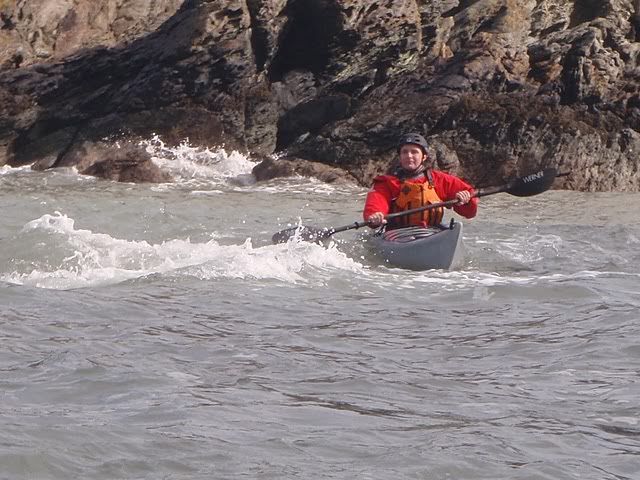 It was a beautiful morning and you could be forgiven in thinking spring was most definitely here, even the sea birds seemed to be taking in the suns rays. Not a cormorant but a shag no less.
The course is aimed at giving you the skills and leadership qualities required to lead a group of reasonably experienced paddles in moderate sea conditions. It covers all sorts of rescue and awareness issues as well as testing your own personal skills in moderate tidal and wind driven seas. The course is mandatory prior to a four star assessment and identifies areas the paddler may need to improve on.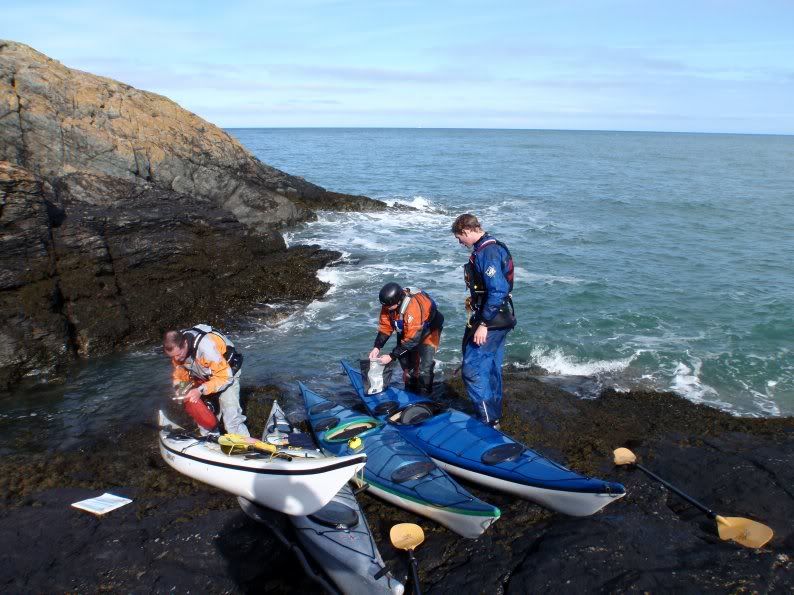 We all had great fun and took part in different types of rescues including extracting paddlers from caves, assisted rescues, self rescues including recovering over the back deck, rolling, re-entry & rolling and using paddle floats in moderate water situations. A great deal was also taught on different towing techniques too.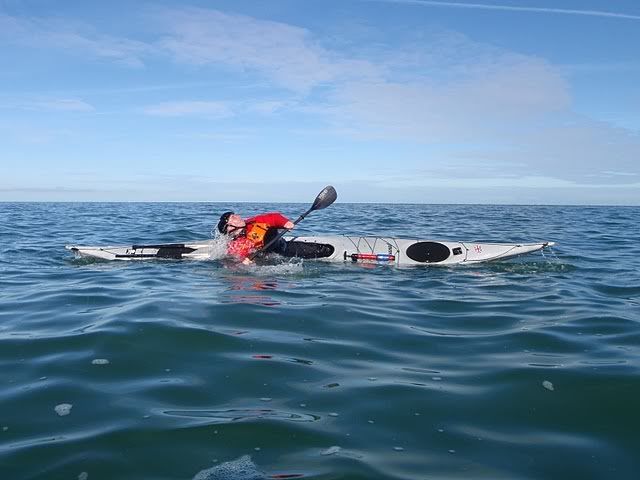 We also had a bit of fun messing around, here's me out of my cockpit, turned around and then laid down over the back of the boat and my nose on the very stern.
The notorious Anglesey tides had now started to gather pace and we headed out onto one of the many tidal races on the island that produces big standing waves, great fun for surfing.
We had fun on the smaller stuff and as it built we ventured further out onto the bigger waves.
We started to catch a few big waves and was having great fun….but then disaster, I surfed straight into the side of another kayak…..oops the rotomoulded Valley Aquanaut went directly through the side of the composite Romany boat, the impact had us both into the water and out of the boats, we were well in the thick of it. Quick thinking by Roger and a few rescues later we were safely on the way back to the bay. The holed boat was towed while I came alongside to give support and two of us constantly pumped out the water. No one was hurt, the boat will repair and it was later laughed off, as Roger said, "all good learning…".
Sunday dawned much the same as the previous day, the sun was shining and it was another pleasant day on the water. This time we launched at the Northern End of Holy Island and paddled from Soldiers Point around to both North and South stack, the infamous Penryn Mawr tidal race was disappointedly given a wide birth today as a breeze had got up making it a little extreme for the course syllabus. We will be going back.
A fun day was had with further coaching in leadership and navigation, a lovely day on the water. The coastline and caves are just amazing.
Finally as the day was slowly coming to an end we re-grouped in an eddy, I was the last to get back in as I was busy playing in the tide. I suddenly realised our group had grown by two in number, and then somebody spoke aloud and said "So hands up all those who have holed boats this weekend?" It was non other than two of the UKs best known sea kayakers and producer of 'This is The Sea' DVDs Justine Curgenven and Barry Shaw. Totally amazing, I was buzzing….
Thanks for reading, the North Wales coast is just fantastic, just cannot wait to get back over, which will be within the next few weeks as I have a boat to repair and return – well come on, any excuse will do. Thank you Roger for an amazing course.